Outsourcing Your Sales Compensation Part 1: Outsourcing as a Cost Cutting Measure or Strategic Initiative?
In recent years the practice of outsourcing administrative functions has become increasingly prevalent. In particular, transactional activities that do not add value to the core functions and critical competencies of the enterprise have been targeted for contracting out. Payroll, benefits administration, inventory management, freight and logistics are all tasks often done outside, rather than monopolizing the internal resources of the corporation. Why then is it that in most sales organizations, compensation is still done internally?
Arguably, the majority of sales organizations do a rather poor job of designing, managing, communicating and administering their sales compensation program. Instead of aligning sales compensation with business goals and sales strategies; versus focusing on quantitative and qualitative deliverables for key roles, many take the easy way out. They tweak the commission rates for certain products and apply band aids to existing plans so as to not rock the boat and upset salespeople. In the past few years, sales strategies, customer expectations and sales cycles have all changed, yet the sales compensation plans for many organizations have remained virtually the same. Even those that have recognized the need for change have often found themselves on a merry-go-round changing the plans annually trying to find the "right" answer to the sales compensation puzzle. Sales managers generally believe that they have the answers and that it really is not that complicated anyway…..wrong. More than any other area of compensation, sales compensation has become increasingly complex in not only design but also measurement and administration.
A research study by the consulting firm Accenture, found that businesses have evolved away from viewing outsourcing as purely a cost cutting measure and instead see it as a strategic opportunity to add value to their sales efforts. The study of 800 executives across a variety of industries in the United States and Europe, found that over 85% of respondents believed that outsourcing allows executives to exert greater control over efforts to achieve better results, particularly in the areas of planning and improved sales execution through effective implementation of ideas. With respect to sales compensation, 25% of respondents said they were outsourcing human resource functions and 43% were outsourcing allied IT functions and processes.
Why should sales organizations consider outsourcing the design and administration of sales compensation? To begin with, the experience and expertise required to create effective sales compensation programs is not a general sales talent, but rather a very specific and unique blend of skills that include both art and science. In a recent interview with a sales executive from a large North American transportation company regarding internal versus external design and management of sales compensation, he commented "Sales compensation impacts our business more than any other management lever. I guess I could pull my own teeth too, but considering the pain it would cause and my need for a desired outcome, I would rather utilize an expert in that area as well".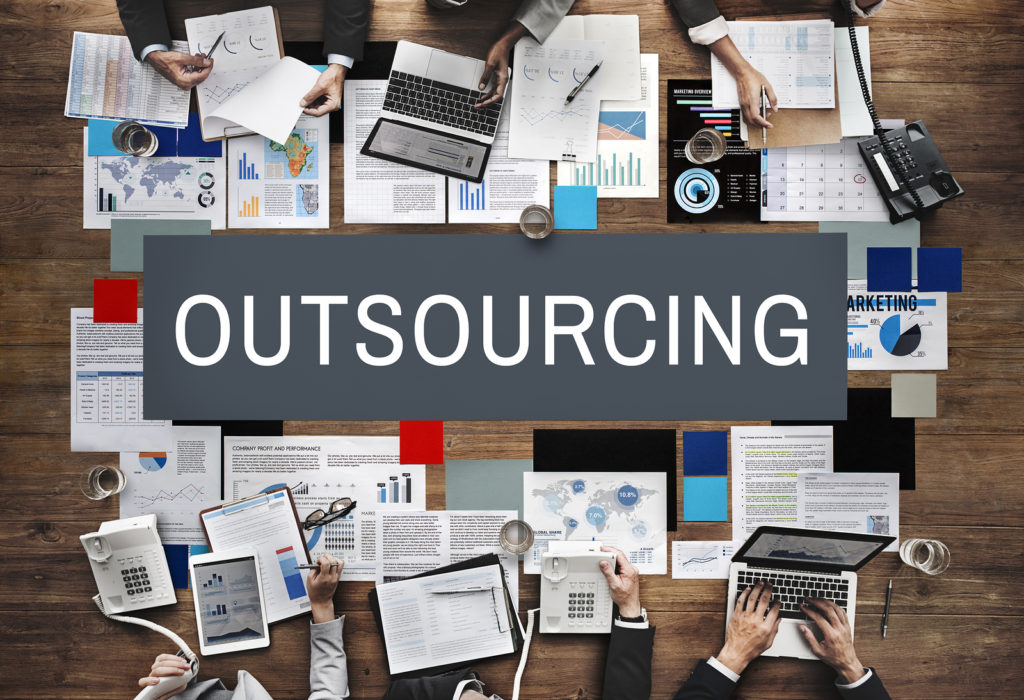 The benefits from outsourcing sales compensation far exceed the cost cutting capability of the initiative.
While cost cutting alone will provide incremental return-on-investment within 8 months of outsourcing, exponential performance results and strategic value will come from the enhanced expertise of the outsourcing partner by:
Improved and sustained competitive advantage resulting from better plan designs that focus salespeople on delivering critical sales outcomes (e.g.: margin achievement, maximizing contribution from high value customers, solution selling).
Greater employee satisfaction and retention of key performers by using experts to design plans that initiate and reinforce desired sales behaviour that deliver results.
Improved communication of the plan to create linkage to business goals and sales strategies that tell salespeople what you value and want to pay them for and where to focus their time and efforts.
Introducing outsourced technologies as part of the services provided in the contract, to improve efficiency of sales administration, and tracking
Better sales reporting and analysis of results to improve decision-making.
Sales compensation has often been overlooked as a candidate for outsourcing because there is generally no dedicated resource applied to all aspects of the design and administration effort. Many people from a variety of disciplines contribute to sales compensation, but not on a full-time basis or for extended periods of time. Therefore, the application of sporadic action increases the time for delivery, often resulting in plans being delivered late and not fully tested. This is de-motivating to salespeople and since compensation is one of the largest overhead cost items to the company, this approach to program development is inappropriate.
It is important however for organizations considering outsourcing sales compensation to conduct their due diligence and take a planned approach to implementation. Audit of the present design and administration processes will assist in identifying the current costs and future opportunities for improvement. Further, reference checking and contracting for required service levels and performance expectations are critical elements to achieving the desired improvements. The strategic value of an outsourced sales compensation partnership is the business-to-business mutual benefit to both parties. The potential for exponential improvement in sales performance however is in identifying the "right" individual/organization to partner with and negotiating the "right" deal.
Coming soon: Part 2: Identifying the "Right" Partner to Implement an Outsourced Sales Compensation Program